Back on November 17th, my MyReminders Android app was reviewed by another website.  This time, it was reviewed by Gizmodo, a major gadget blog rather than an Android-specific blog, and it was compared to two other to-do list/reminder apps (here is the review).
I was curious to see what the impact would be on the download numbers for the app compared to what happened when Android Central reviewed my app.  Here's a chart with the results: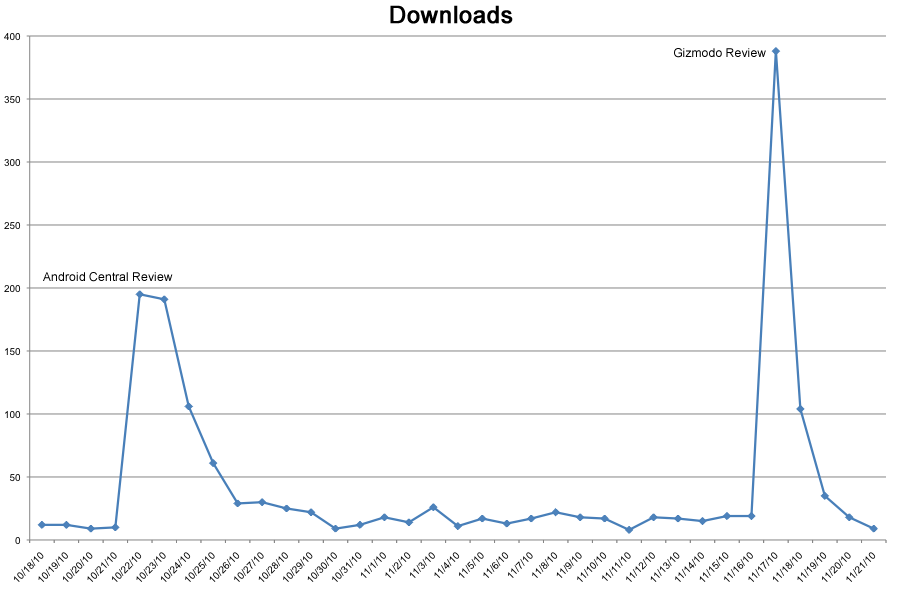 Not unexpectedly, the Gizmodo review created a much larger spike in the numbers since it undoubtedly reaches a larger audience than Android Central.  However, the numbers went down again more quickly than they did after the Android Central review.  That's probably due to the fact that the app review stayed on the Android Central front page for a day or two, while Gizmodo cranks out so many posts that the review got buried on the second and third page of the site after several hours.
One other thing worth noting:  the Gizmodo review also included a link to the free, more limited version of MyReminders (my NoteToSelf app).  Although the Android Market doesn't document individual downloads for free apps like it does for paid apps, I was able to determine that NoteToSelf had about 691 downloads on November 17th and 275 downloads the following day. Even though the download numbers for NoteToSelf do average higher than the numbers for MyReminders, that seemed to indicate to me that a lot of folks preferred to go with the free version despite the positive review for the paid version.
0 responses to "The Impact of Exposure (Part 2)"
Leave a Reply