As I mentioned in an earlier blog post, the drag-and-drop functions provided by various JavaScript libraries (jQuery, YUI, etc.) won't work in the iPhone/iPod Touch Safari web browser because the dragging gesture is used for scrolling around the web page.
That's a big problem for those of us who use drag-and-drop in our web applications to allow our users to reorder the items in a list, but I've come up with an alternative method for rearranging items using the jQuery JavaScript library that works on the iPhone/iPod browser as well as regular browsers. I call it the "Click-to-Click Move" method (CTCM).
The method involves the user making two clicks (or taps if they're using an iPhone/iPod). The first click is when the user clicks/taps on an HTML element (like an icon or hyperlink) within the item they want to move. That click fires off a jQuery-powered JavaScript function that creates target elements above each item in the list and a target below the last item in the list.
The second click/tap is when the user selects one of those targets as the new location for the item. That click/tap fires another jQuery-powered function that:
makes a copy of the item associated with the first click
deletes the original item
places the copied item beneath the target associated with the second click
deletes all the targets
The end result: the item has been repositioned within the DOM structure of the page. You can capture the new item order and save it via a form submit or an AJAX call.
I've put together a "to-do list" application to demonstrate the method. It's designed/optimized for viewing on an iPhone/iPod Touch Safari browser, but you can view it in a regular browser:
http://www.swartzfager.org/ctcm
(Note: Non-iPhone/iPod users can also view it using the iPhone tester site http://www.iphonetester.com, which simulates the iPhone/iPod view minus the touch screen capability).

I've also created a simpler demo with no server-side code (just HTML, CSS, and JavaScript) that you can download if you want to view/play with the jQuery functions behind the technique: ctcmSample.zip

Finally, here are some screenshots from the "to-do list" demo: The original list of items: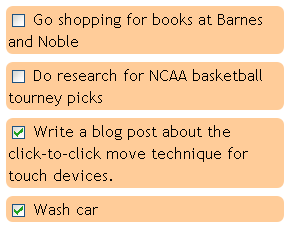 An item has been clicked, revealing the move, edit, and delete icons for the item: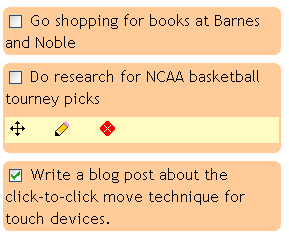 The move icon has been clicked, and the target elements have been created: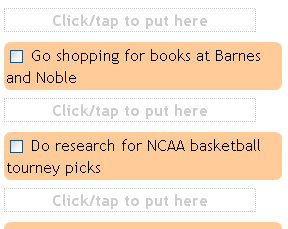 The user clicked on the first target. The item is moved, the targets are deleted, and the list order has been changed: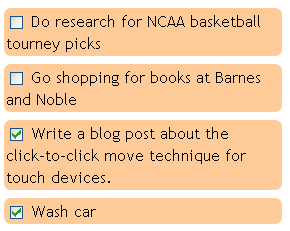 3 responses to "Problem: No Drag-and-Drop On The iPhone/iPod Touch. Solution: Click-To-Click Move"
Henrik N Says:
Nov 27, 2008 at 6:44 AM Thanks for this. I looked at various jQuery nested sortable implementations (jTree, nestedSortables, UI/Sortables) and none of them was quite a good fit for what I wanted. This post inspired me to consider a much simpler and better solution.
Jonny Shaw Says:
Feb 26, 2009 at 3:29 PM Very Good, but i wonder if you could add some persistance to it?
Jonny
Brian Swartzfager Says:
Feb 26, 2009 at 8:04 PM @Jonny: Not sure what you mean by that. The data for the working demo is stored in a database, so the changes users make as they mess with it are persisted. As for the download file, I kept it simple (no server-side code) so folks using other back-end technologies could give it a try.
Leave a Reply